Carbase has reinvented the Dealership / website provider relationship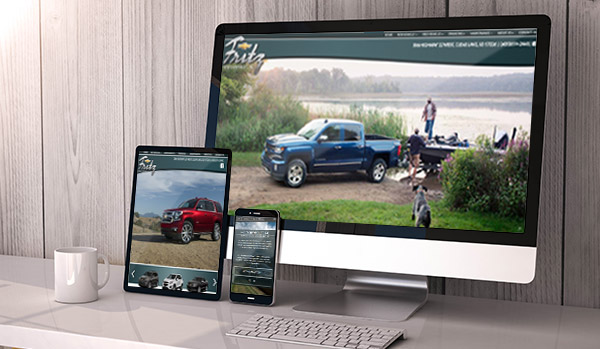 Easy to Use Mobile Friendly RESPONSIVE WEBSITES - MODERN TECHNOLOGY - BEST PRACTICES
The car business moves quickly and auto dealerships need to act fast to be first to market with messaging related to ever changing rebates and incentives, finance offers and more. Adding a page to highlight new rebates and incentives or specials in real time is vital to win in your market. As an industry we change our mail, radio, television and email marketing very effectively. For a multitude of reasons our websites seem to lag behind. This is unacceptable. Shoppers of all ages have changed their behaviors and very few people will buy a car without visiting the dealer's website. Furthermore, your advertising is driving traffic to your dealership's website. Your website has to reflect your advertising!
Simply put, it takes too long for other dealer website providers to make changes. At Carbase we ask the question, how should the auto dealership and website provider relationship work? We strongly believe the "dealership website" is the core of the auto dealership's brand. The Carbase Responsive Dealer Website is a real-time marketing platform that allows your dealership to move at the speed of your business.
This relationship should be a partnership. To help you leverage these emerging online opportunities, we load our sites with more standard features than virtually any of our competitors. We are constantly adding features and functionality to keep your dealership on the cutting edge of the online revolution. We understand that while great website design is a key element to your online strategy, it is not the only ingredient necessary for success. Therefore, we also offer top-notch customer support, training and after-sale services. We work with you continuously to maximize ROI and help you sell more cars.
Your Design
We work with each client to design a completely custom website in a week or two, not 6 months. From the ground up, our auto dealer websites and auto service websites are mobile-friendly. That's a must. We take your ideas, wishes and worries and put them together in a nice package for your customers to easily use. You don't want your traditional marketing and advertising to look just like all the other auto dealers in town, so why would you want to have a cookie cutter website just like everyone else? The Carbase.com support staff will help you keep your site relevant and unique by making changes and keeping current with your other marketing efforts.
In a Nutshell
We've built an auto dealer website and marketing platform that has no limits! We offer a ton of tools and options for your dealership so together we can build something unique and results-oriented. Our easy to use drag and drop technology is simple enough for just about anybody to make changes. If you prefer, our support team will make changes. And best of all, the site will work on any device, because all the sites we build are mobile-friendly and use responsive design principles and technology.
Conversion tools and Sprockets
All sites come with the ability to add features we call 'Sprockets' to any page, at any time. If you want to add a form, promotion, slideshow or your own Sprocket, pick from a list. This allows you to present your current sales and incentives anytime. If you are sending out a direct mail piece for your 4th of July sale, your website should present this sale too. With Carbase, your website will match every sale or promotion, every week. We offer continuous training so you can learn to make easy drag and drop changes or you can use our support team to make your changes.
Customize Anything
Adding plugins from 3rd party providers is a snap! We can add them in days rather than months. Making your site flip around, well, that might take a programmer. Luckily, we give you access to everything, yes everything. We developed our own code, CBHTML, that makes it easy for kinda/part-time web developers to go into the site and make drastic changes with really cool editors.
And don't worry, if you don't have a developer, use our exceptional staff. When you call our support team, an actual person will answer the phone and help you right away. The days of memorizing the phone tree sequence are over.
VDP Focused
The whole point of an auto dealership website is to sell cars. That's why we spend more time than other providers thinking about tools to help people click on vehicles. We also provide more 'out of the box' conversion tools than any other auto dealer website provider. And you can ask for changes on your VDP, at any time. Remember, our support team has a real person answer the phone to help you.
Let Us Show You
We want you to see what we can do for your auto dealership. We can make things easy for you. We can help you with training. We can help with the design. Our support team can help you make changes any time you like. And we can help get more people in your dealership! Try our service and you'll discover why in over 15 years of providing Web & Data solutions to the Automotive Industry, almost none of our clients have switched to another provider. We have a 98% retention rate. That kind of loyalty, online success and satisfaction can only be earned! Call us today @1-866-999-1266 to discuss the solution that matches the vision of your dealership.