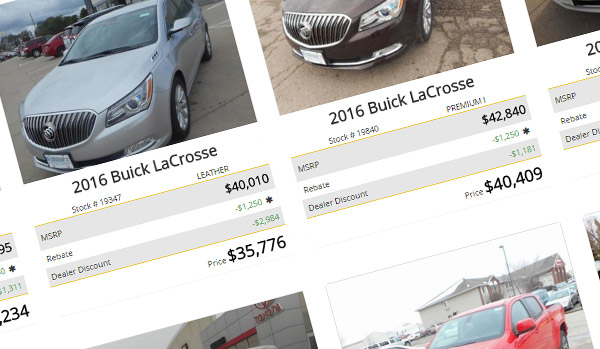 Carbase makes it so easy for you to upload and manage your new and used auto inventory to your website. This allows for optimal presentation and gives consumers all the necessary information needed to build trust and connect with your sales team - taking them to the next step in the buying process. With Multi-Pic, Vin Decoding and all data feeds, we make getting your inventory to the market quick and accurate!
Picture Management
You can either use the Carbase Control Panel, our mobile app, or MultiPic, our Windows based dealer website picture manager, to upload pictures, with custom overlays. Carbase supports unlimited pictures per vehicle, stock photos for new vehicles and easy per-vehicle photo management.
We provide free training any time and a call to our support team will be answered by a real person that can help you make changes.
Featured Inventory
You can configure Featured Inventory many ways. You can add Featured Inventory to ANY page!! So when the Carbase Control Panel is telling you that you've got inventory hanging around longer than 90 days, add a new page, add Featured Inventory, and show those old vehicles! If you would like our help, call our dealer website support team.
Special Pricing
Whether you call it Special Pricing, Internet Pricing, or something else, you can set fly dates for pricing. Again, create an inventory page, call it Saturday-Specials, then add the special pricing to those vehicles. Our dealer website support team and advertising experts are there to help too if you need some creative help with landing pages for advertising.
Tagging
This is a very cool dealer website feature. Add a tag like 'ownerspecial' to inventory, and then add an inventory page called Owner's Specials and pick the tag when creating the page!! Our drag and drop sprocket technology makes it easy. Want some help? Call support.
Weekly Ads
Yes, this may be legacy and old school, but sometimes it is nice to have a big page of all the cars on special. It is really easy to manage and our support team is there to help.
Incentives and Rebates
Manufacturer's rebates and incentives can be brought into your SRP and VDP, giving you the advantage of lowest pricing.
Picture Overlays
Add picture overlays to all pictures, or individuals using MultiPic. We have training available anytime or if you would like some help, call support. You might be surprised but, real person will answer the phone and make your changes in 24 hours or less.
Calls To Action
We don't really want too many CTA's on the search pages, but we include Texting, Scheduling Test Drives and Click to Call. This is pretty simple, but any time you need us call support. A real person will answer and help you make changes in 24 hours or less.
Layouts
Pick from a variety; like grid or list. Or, we can build some layouts, including several different filters from super simple to show-me-everything. Call support any time and a real person will answer and make your changes in 24 hours or less.
Search Engine
Text searching is really popular due to Google. While not everyone uses it, we support searching everything by typing a few words. Got questions, call support and talk to a real person right off the bat.
VIN Decoding
Instead of wasting time and money by having someone at your dealership spend hours typing in all the features of every vehicle, you can have all this automatically done with our VIN Decode. Plus the standard VIN Decoder description will be expanded with our VIN Decode.
When you enter the VIN into VIN Decode then every feature of the vehicle is automatically populated into the database. Not just the standard VIN Decoder either as our descriptions are expanded to give your inventory more detail that the consumer wants and expects. This is dealer management software at its finest.
The VIN, Vehicle Identification Number, is used by the automotive industry as a unique number to identify vehicles. Before 1980 VINs were not standardized and each vehicle manufacturer had their own proprietary method of identifying their vehicles. Thankfully the VIN was standardized to 17 characters and all automobile manufacturers use this method.
Dealer Inventory Data Exports and Feeds
Carbase.com helps you reach targeted car buyers with your new and used car advertising. We export your inventory data export to third party sites for maximum lead generation.
If you are not currently with Carbase.com, contact us to find out about our data export deals.
DMS Data Polling
Our DMS Data Polling gets information from your Dealership Management System, which updates your online inventory on a scheduled basis. You no longer have to enter vehicle information once into your DMS and again into a web base inventory system. Our DMS Data Polling saves your dealership valuable time.
DMS Integration
Our DMS Data Polling integrates with popular Dealer Management Systems and we are happy and willing to work with any DMS.
DMS Marketing
DMS Data Polling automatically creates updates and removes vehicles listings on a scheduled basis. It is a vital part of any online inventory solution. Your inventory reaches consumers faster than ever.